Ein hochrangiger chinesischer Gesundheitsbeamter hat den Plan der Weltgesundheitsorganisation für die zweite Phase einer Studie über die Ursprünge von COVID-19 entschieden abgelehnt.
Wichtige Punkte:
Peking hat die Pressekonferenz einberufen, um das Problem der COVID-19-Ursprünge anzusprechen
Der Gesundheitsbeamte sagte, das Wuhan-Labor habe kein Virus, das Menschen direkt infizieren könnte
Er bestritt, dass infizierte Mitarbeiter und Doktoranden im Labor möglicherweise die Ausbreitung des Virus in der Stadt ausgelöst haben
Zeng Yixin, der Vizeminister der Nationalen Gesundheitskommission, sagte am Donnerstag, er sei "ziemlich verblüfft", dass der Plan weitere Untersuchungen der Theorie vorsehe, dass das Virus aus einem chinesischen Labor durchgesickert sein könnte.
Er tat die Idee des Laborlecks als Gerücht ab, das dem gesunden Menschenverstand und der Wissenschaft widerspricht.
Die Suche nach der Herkunft des Virus ist zu einem diplomatischen Thema geworden, das Chinas sich verschlechternde Beziehungen zu den USA und vielen amerikanischen Verbündeten angeheizt hat.
Die USA und andere sagen, dass China nicht transparent war, was in den frühen Tagen der Pandemie passiert ist.
China wirft Kritikern vor, es für die Pandemie verantwortlich zu machen und ein Thema zu politisieren, das Wissenschaftlern überlassen werden sollte.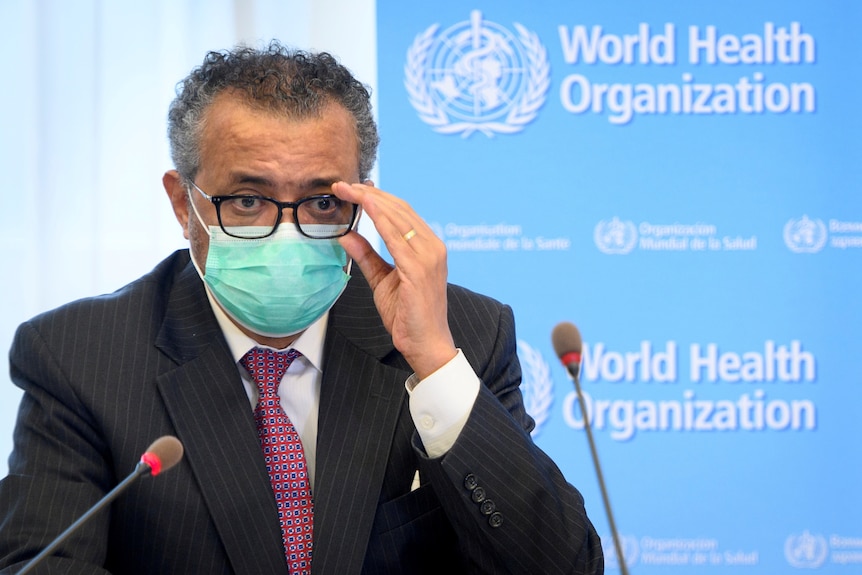 Tedros Adhanom Ghebreyesus, der Generaldirektor der WHO, räumte letzte Woche ein, dass es nach der ersten Phase der Studie einen "vorzeitigen Vorstoß" gegeben habe, um die Theorie auszuschließen, dass das Virus aus einem Labor der chinesischen Regierung in Wuhan entkommen sein könnte Stadt, in der die Krankheit Ende 2019 erstmals entdeckt wurde.
Die meisten Experten glauben nicht, dass ein Laborleck die wahrscheinliche Ursache ist.
Derzeit stellt sich die Frage, ob die Möglichkeit so gering ist, dass sie fallengelassen werden sollte, oder ob sie weiter untersucht werden sollte.
Die erste Phase wurde Anfang dieses Jahres von einem internationalen Team von Wissenschaftlern durchgeführt, die nach Wuhan kamen, um mit ihren chinesischen Kollegen zusammenzuarbeiten.
Dem Team wurde vorgeworfen, sich den Forderungen der chinesischen Seite gebeugt zu haben, nachdem zunächst angedeutet worden war, dass weitere Untersuchungen nicht erforderlich seien.
Herr Zeng sagte, das Wuhan-Labor habe kein Virus, das Menschen direkt infizieren kann, und stellte fest, dass das WHO-Team zu dem Schluss kam, dass ein Laborleck höchst unwahrscheinlich sei.
Er fügte hinzu, dass US-Spekulationen, dass Mitarbeiter und Doktoranden des Labors infiziert waren und die Ausbreitung des Virus in der Stadt ausgelöst haben könnten, unwahr seien.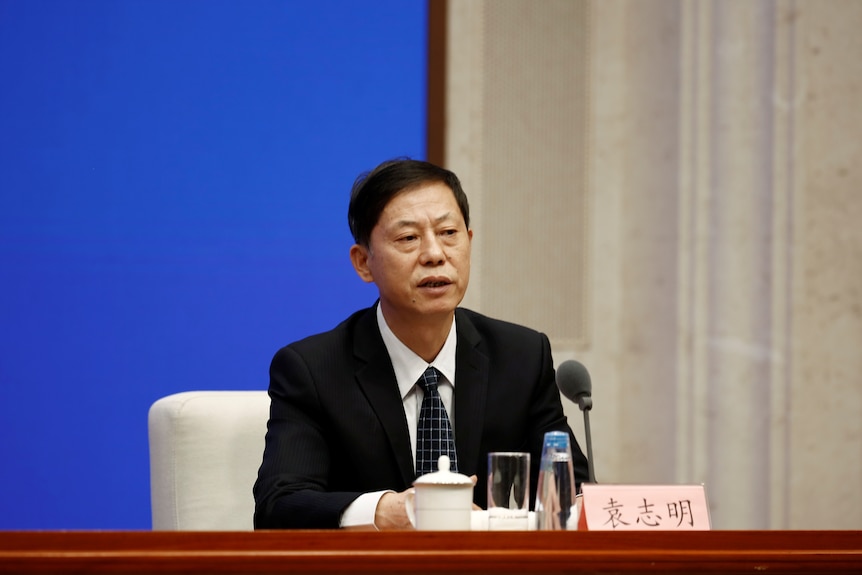 Yuan Zhiming, der Direktor des Biosicherheitslabors am Wuhan Institute of Virology, sagte, man habe das neue Coronavirus vor dem Ausbruch nicht gelagert oder untersucht.
"Ich möchte betonen, dass … das Wuhan Institute of Virology das neuartige Coronavirus nie entwickelt, hergestellt oder durchgesickert hat", sagte er.
Das WHO-Team kam zu dem Schluss, dass das Virus höchstwahrscheinlich vom Tier auf den Menschen übergegangen ist, wahrscheinlich von Fledermäusen auf ein Zwischentier.
Die Experten besuchten Märkte in Wuhan, auf denen lebende Tiere verkauft wurden, und empfahlen weitere Untersuchungen der Farmen, die den Markt belieferten.
"Im nächsten Schritt sollte das Aufspüren von Tieren meiner Meinung nach immer noch die vorrangige Richtung sein. Es ist das wertvollste Feld für unsere Bemühungen", sagte Liang Wannian, der die chinesische Seite leitete, auf der Pressekonferenz am Donnerstag.
Dr. Tedros sagte letzte Woche, er hoffe auf eine bessere Zusammenarbeit und Zugang zu Daten aus China.
Seine Worte wurden auf derselben virtuellen Pressekonferenz von Bundesgesundheitsminister Jens Spahn wiederholt, der China aufforderte, die Zusammenarbeit bei der Suche nach dem Ursprung des Virus zu intensivieren.
Herr Zeng sagte, China habe immer die "wissenschaftliche Virusverfolgung" unterstützt und möchte, dass die Studie auf andere Länder und Regionen ausgeweitet wird.
"Wir sind jedoch gegen eine Politisierung der Sucharbeit", sagte er.
China hat häufig versucht, Vorwürfe abzuwehren, dass die Pandemie ihren Ursprung in Wuhan habe und sich durch frühe bürokratische Fehltritte und eine versuchte Vertuschung verbreiten durfte.
Regierungsvertreter haben eine Untersuchung gefordert, ob das Virus in einem US-Militärlabor hergestellt worden sein könnte, eine Theorie, die in der wissenschaftlichen Gemeinschaft nicht weit verbreitet ist.
China hat die lokale Übertragung von COVID-19 durch Sperren und das Tragen von Masken weitgehend beendet und inzwischen mehr als 1,4 Milliarden Dosen chinesischer Impfstoffe verabreicht.
Am Donnerstag wurden nur 12 neue im Inland verbreitete Fälle gemeldet, und Chinas Zahl der Todesopfer durch das Virus ist seit Monaten unverändert bei 4.636.
Formular wird geladen…
AP
.